Paint the Poudre Plein Air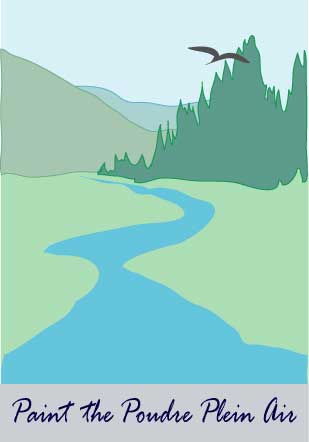 Paint the Poudre Plein Air is an annual plein air painting competition Exhibition and Sale.  Top plein air artists from across the country paint the beauty & life of the Cache La Poudre river, the only "Wild and Scenic" in Colorado encompassing the towns of Bellvue, Fort Collins and LaPorte.  Part of the Proceeds go to benefit www.SavethePoudre.org
Juried Artists for PPPA 2013
From July 2 – 11, 40 plein air artists will paint the beauty & life of the Poudre River, the only "Wild & Scenic" river in Colorado.
Then on July 12th, the show will open with 120 of their beautiful paintings at the AANC Gallery at 148 W. Oak St. in Fort Collins, Co from 5pm to 9pm.  Awards will be presented circa 6:30 by our esteemed Judge, Lorenzo Chavez, & part of the proceeds will go to SavethePoudre.org
You can help make this event a success by sponsoring us at CommunityFunded.com.   Video
Artists:
Kevin Aldrich
Bonnie Anthony
Cliff Austin
Bonnie Bowne
Lori Brunswig
Dawn Buckingham Goldsmith
George Burnette
Laura Cronk
Stephen DeOrio
Alison Dickson
Diane Edwards
Monica Esposito
Diane Fechenbach
Bridget Fowler
Mary Giacomini
Marc Hanson
David Harms
Mary Harnett
Carol Hartman
Rebecca Hill
Kathy Imel
Dena Kirk
Sharon Lazarowicz
Terry Ludwig
Marie Massey
Jeanne MacKenzie
Anne McCoy
Susan McKelvy
Norbert Nagel
Marty O'Brien
Collette Pitcher
Randall Raak
Karen Ramsay
Mike Ray
Mark Silvers
DeWain Stoll
Bonnie Tucker
Cynthia Underwood
Tracy Wager
THANKS To Our SPONSORS
Home State Bank
Judsons Art Outfitters
Pastel Society of Colorado
Pinnacle Electric
Terry Ludwig Pastels
High Plains Frames
Mugs Coffee Lounge
ARC Electric
Otteman Arts
Nordic Arts
Please call Marie Massey at 970-222-1652 if you would like to participate or would like more information.